Superior Salt Lake Drilling Services
Salt Lake Drilling Services
Salt Lake Drilling is a revolutionary method that allows large drill rigs to access previously inaccessible salt lakes for exploration drilling. Raglan Drilling has a variety of these unique drill rigs available, as well as qualified employees who can effectively run them.
Salt Lake Drilling with Raglan:
 Air core, RC and Diamond solutions.
6 x low psi interchangeable crawler-based carriers for hauling water, fuel, auxiliary air packages across lake terrances.
3 x brand new Argo Conquests for people moving, sample and drill core cartage.
Small footprint excavator for digging sumps and rehabbing lake surface.
Benefits of Salt Lake Drilling
Salt Lake drilling utilises a concept called directional drilling which has a number of benefits, especially for the surrounding environment.
Directional drilling of salt lakes eliminates the need for trenching or excavation. Thus, costs are lower and the environmental impact of the project is greatly reduced.
By using directional drilling, pipes and utilities can be installed around obstacles in delicate environments such as lakes. Operators can use this technique to curve underground systems along the desired route with fewer disturbances above and below ground.
Drilling horizontally causes minimal disturbance to the surrounding environment. It poses little risk to wetlands, rivers, and lakes.
Additionally, directional drilling does not have an impact on steep slopes or sediment. In contrast to trenching, directional drilling allows easy maneuverability around sensitive slopes without causing erosion.
Remote Camping
Raglan Drilling has the capability to supply a complete remote camp set with either Explorex type caravans or transportable buildings. We can provide remote workshop facilities as well as accommodation facilities, including:
Explorex Caravans
Sea container accommodation and kitchen with or without dome
Generators
Water tankers (potable and non)
Fuel tankers
Sea container workshop
Ablutions
Frequently Asked Questions
Exploration for mineral resources in salt lakes has generally been ineffective, if not impossible. This is due to the fact that salt lake locations are more difficult to access due to deep sheets of mud covering the land, making transportation of drill rigs problematic.
Drill rigs can be very heavy machinery. If you use a typical drill rig to undertake exploratory services on a salt lake, you will quickly sink into the mud. With the evolution of technology over the years, drill rigs can now accommodate the particular equipment necessary to effectively conduct salt lake drilling projects.
Salt lake drilling equipment has been built not only to overcome the barriers associated with salt lake drilling, but also to allow drilling to take place in the middle of large mud accumulation. To make the innovation work, the rigs will frequently have unique tracks that keep them from sinking into the mud.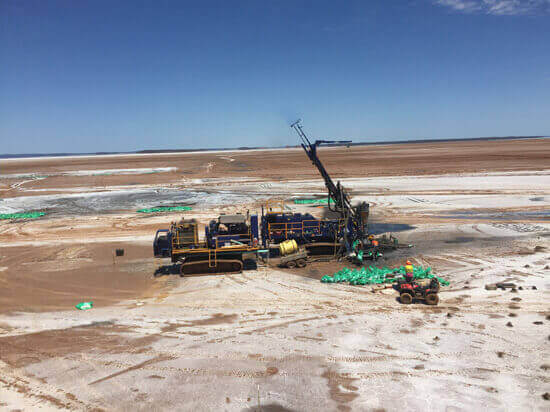 Enquire About Salt Lake Drilling
"*" indicates required fields