Reliable, State of the Art Reverse Circulation Drilling
Reverse Circulation Drilling Services
Raglan Drilling uses cutting-edge technology and RC drill rigs to provide high-quality Reverse Circulation Drilling services throughout WA. All of our RC drilling tasks are carried out by professionals who are highly competent, experienced, and qualified.
Learn More About Our RC Drill Rigs
Benefits and Capabilities of RC Drilling:
The benefits of RC drilling include its ease of use, its low water usage, as well as its efficiency. RC drilling is also a cheaper alternative to diamond drilling, with operating costs up to 40% lower. The savings are especially obvious in geologically difficult places, where more traditional drilling methods would increase the cost even more.
Up to 800m depth
Large air packs, 1000 psi/2000 cfm 
Automated rod handling
Hands free breakouts
Dust suppression 
Down hole Gyro surveying
Excellent deviation control
Better Samples
Faster and More Versatile
Remote Camping
Raglan Drilling has the capability to supply a complete remote camp set with either Explorex type caravans or transportable buildings. We can provide remote workshop facilities as well as accommodation facilities, including:
Explorex Caravans
Sea container accommodation and kitchen with or without dome
Generators
Water tankers (potable and non)
Fuel tankers
Sea container workshop
Ablutions
Frequently Asked Questions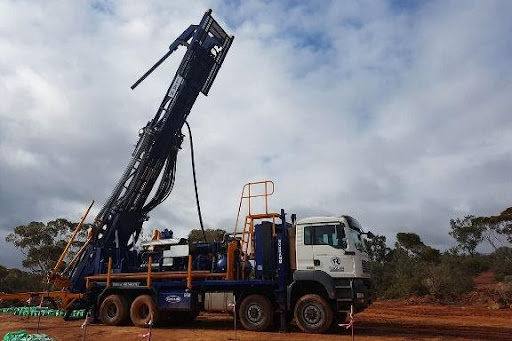 Total Drill Depth: 700 metres
Rig Carrier: Modern 8×8 MAN and Mercedes
On board Air: 1150/500
Auxiliary Air: 2000/900
Rod handling:KL Rod Handlers
Make and Break: Metzke/ Corpraal Hands Free
Rod size: 114.3mm (4.5 inch )
Bit size: 114mm-139mm (4.5 inch – 5.5/8 inch)
Support Equipment: Modern Fleet Of Man And Mercedes 8×8 Trucks 
Dust Suppression: Yes
Sampling system: Dual Box Cyclone And Cone Splitters
Enquire About RC Drilling
"*" indicates required fields