Cutting-Edge Core Drilling in Perth
Air Core Drilling Services
With our services, we can deliver the results you are looking for from any air-core drilling program. Air Core Drilling is a superior first-pass drilling technique that our team has extensive experience executing. Raglan can ensure your core drilling in Perth runs smoothly. 
Our result-oriented equipment is reliable, safe, and minimizes downtime. In addition to providing rapid, accurate samples, Aircore technology from Raglan Drilling speeds up drilling rates which in turn reduces overall costs. Inaccessible areas can be reached with little environmental impact by our compact yet powerful rigs. We are here to help with any of your Perth core drilling needs.
Advantages
Drilling to 200m
No need for casting holes.
Sample of material with a broader representation: samples that are ejected have an easier nature to analyse.
Blade and hammer capability
Dust suppression
Safer sample removal: When compared to blast drilling, air core drilling causes less damage to samples because it utilizes compressed air injection.
Tilting rod bin
Boosts efficiencies and reduces costs: Material can be removed efficiently using air core drilling. As a result, the drilling rate is increased and field costs are reduced since real-time sample collection is possible. Additionally, air-core drill rigs are lighter than other rigs, making them easier to transport and faster to use.
Small footprint, low impact
Less chance of cross-contamination: Cuttings are flushed through the inner tube with compressed air, so less sample pollution occurs compared to other methods.
Remote Camping
Raglan Drilling has the capability to supply a complete remote camp set with either Explorex type caravans or transportable buildings. We can provide remote workshop facilities as well as accommodation facilities, including:
Explorex Caravans
Sea container accommodation and kitchen with or without dome
Generators
Water tankers (potable and non)
Fuel tankers
Sea container workshop
Ablutions
Frequently Asked Questions
Steel or tungsten blades are used in Air-Core Drilling to bore a hole into loose ground. Compressed air is then used to remove drill cuttings from the hole. As drill rigs and steel or tungsten blades can't penetrate fresh rock, this method is usually utilised by geologists to drill weathered regoliths (loose, heterogeneous material covering solid rock).
An air-core drill often provides a more representative sample than a RAB drill, so it would be preferred if possible. The drilling of air cores is typically carried out through small mobile rigs called Air core rigs, which can drill at great depths into the earth. Tri-cone rollers or hammers can also be used to drill through surface cap rock.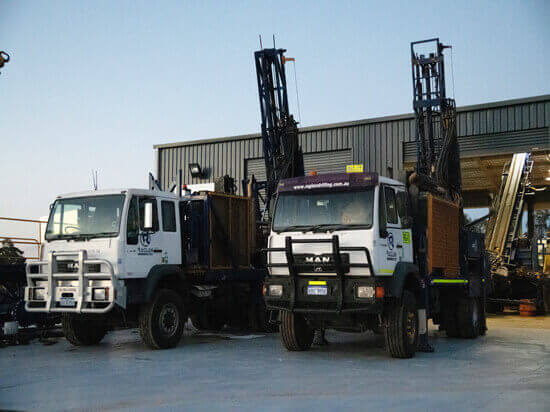 Total Drill Depth: 180 Metres
Rig Carrier  :4×4/6×6 MAN And Mercedes
On Board Air : 600/350
Auxiliary Air: N/A
Rod Handling – Manual 
Make And Break  Dual Spanners
Rod Size 75mm
Bit Size 85-95mm
Support Equipment Modern 4×4/6×6 Trucks
Dust Suppression – Yes
Sampling System Cyclone
Enquire About Air Core Drilling
"*" indicates required fields