High-Tech & Reliable Auger Drilling
Raglan Drilling offers Auger Drilling services undertaken by our experienced and skilled operatives. Auger Drilling technology is extremely versatile and can be used successfully on a huge range of different programs.
Advantages of Auger Drilling
The drill has a deep drilling capability of up to 40m.
Using auger technology does not require drilling fluids (which allows for a more clean sample).
Cost-effective first pass drilling.
It is possible to achieve a wide variety of boring diameters.
Raglan's auger drills are Landcruiser mounted.
There is minimal impact on the surrounding environment. 
The technology is cost-effective.
An application that generates extremely stable bores over time.
A simple, effective method that is highly successful.
Surface, buildings, rail, and traffic are not disrupted.
A method that is fast, safe, and low-cost.
Remote Camping
Raglan Drilling has the capability to supply a complete remote camp set with either Explorex type caravans or transportable buildings. We can provide remote workshop facilities as well as accommodation facilities, including: 
Explorex Caravans
Sea container accommodation and kitchen with or without dome
Generators
Water tankers (potable and non)
Fuel tankers
Sea container workshop
Ablutions
Frequently Asked Questions
The auger drilling process involves lifting steel tubes through the earth, connecting the main shaft to the reception shaft, to form a horizontal bore. Rotating auger drills are used to remove spoil from inside the encasement. As spoil passes back through the casing pipe to the main shaft, it is removed by the rotating augers. Auger drilling machines enlarge holes in earth or rock with a cutting head attached to the initial auger, which lays steel casing pipes.
Auger drilling is suitable for geologies containing sand, gravel, clay, or even urban fill. While many other technologies cannot reach the same depth as an auger, it is a good option when a deep hole is required. Excellent quality auger drill bits are used in the most common applications to drill holes in the soil, dig wells, collect groundwater, and get geological information.
The auger drill bit is designed like a screw and is composed of steel; the curving flights revolve when the rig drill head provides upward pressure on the bit. It is essential to rotate the flights because they mechanically transport the material to the surface. The auger drill bits, which range in length and diameter from 2 to 18 inches, may be installed on a variety of equipment or vehicles.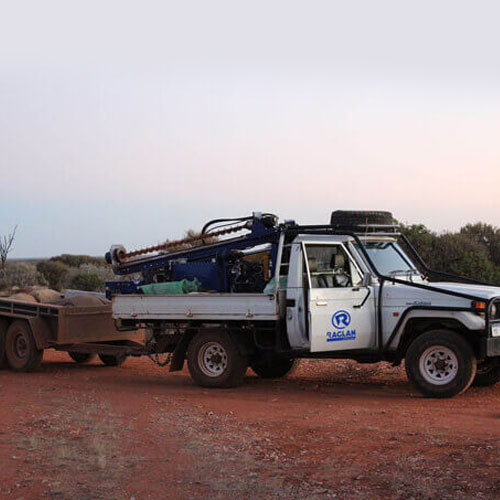 Enquire About Auger Drilling
"*" indicates required fields