The Latest In Diamond Drilling and Diamond Core Drilling Technologies
Diamond Drilling Services
Diamond drilling is a powerful drilling method that creates precise and clean holes in some of the strongest materials. It is a specialised service that Raglan Drilling can provide through our team of highly trained professionals. They will ensure the correct and safe use of our diamond core drilling rigs and achieve optimal results for any project.
Benefits and Capabilities of Diamond Drilling:
PQ, HQ and NQ sized core
Diamond Coring to 1200m HQ and 1800m NQ
Geotechnical coring PQ3, HQ3 and NQ3 sizes
Mud Rotary
Directional & controlled drilling
Downhole installations (monitoring bores, piezometers, packer testing etc)
The diamond drilling process is relatively quiet and can be carried out in places where excessive noise needs to be limited. Diamond drilling produces also create very little dust, so there is little mess or disturbance created.
Remote Camping
Raglan Drilling has the capability to supply a complete remote camp set with either Explorex type caravans or transportable buildings. We can provide remote workshop facilities as well as accommodation facilities, including:
Explorex Caravans
Sea container accommodation and kitchen with or without dome
Generators
Water tankers (potable and non)
Fuel tankers
Sea container workshop
Ablutions
Frequently Asked Questions
Diamonds are the world's strongest element, making them excellent for cutting through a range of materials such as concrete, metal, and glass. Diamond drilling is a type of core drilling in which a rotary drill and a diamond drill bit are used to create a precisely measured hole. Diamond drilling has several important benefits over traditional drilling. Diamond drilling has a significant advantage in that it creates less disturbance, allowing the task to be completed safely and with minimum damage to the surrounding environment. When Raglan Drilling takes on a job, this is one of its top priorities. Diamond drilling techniques are also incredibly adaptable and may be employed in a wide range of situations.
The fundamental aspect of a diamond drill is that it is hollow, allowing water to be pumped in to keep the drilling tip cool and dust dispersed to a minimum. Diamond drilling is hence perfect for confined places. Diamond drilling also allows for the exact drilling of holes in any material, including stone, metal, concrete, and reinforced concrete. The usage of diamonds embedded in the drill bit accounts for this strength. Because drill rigs are lighter and more portable, they may be employed in circumstances where space is limited.
Diamond drilling can create clean, accurate holes with sizes ranging from 8 mm to 1,500 mm. It is a non-percussive technology that maintains the structural integrity of materials during the drilling process. They can work in a vertical, horizontal, or diagonal manner depending on the situation. Diamond coring drill rig incisions are more exact than stroke methods, which means there is less possibility of structural integrity being compromised.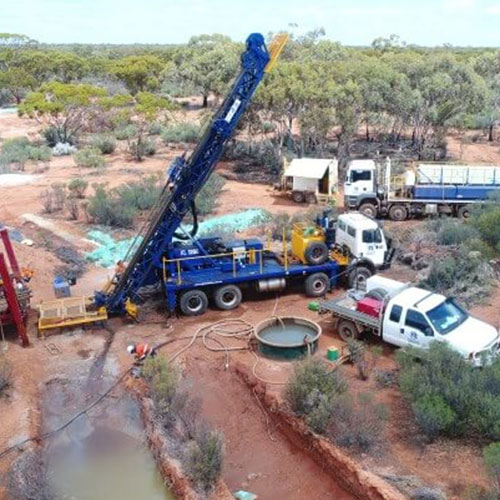 Total Drill Depth: 1200 NQ 800HQ
Rig Carrier: Modern European Trucks, Lake carriers
On board Air: N/A
Auxiliary Air: N/A
Rod handling: Wire Line
Make and Break: Powered Rod breakers
Rod size: NQ, HQ, PQ
Bit size: NQ, HQ, PQ
Support Equipment
Dust Suppression
Sampling system
Enquire About Diamond Drilling
"*" indicates required fields